Products
Power Quality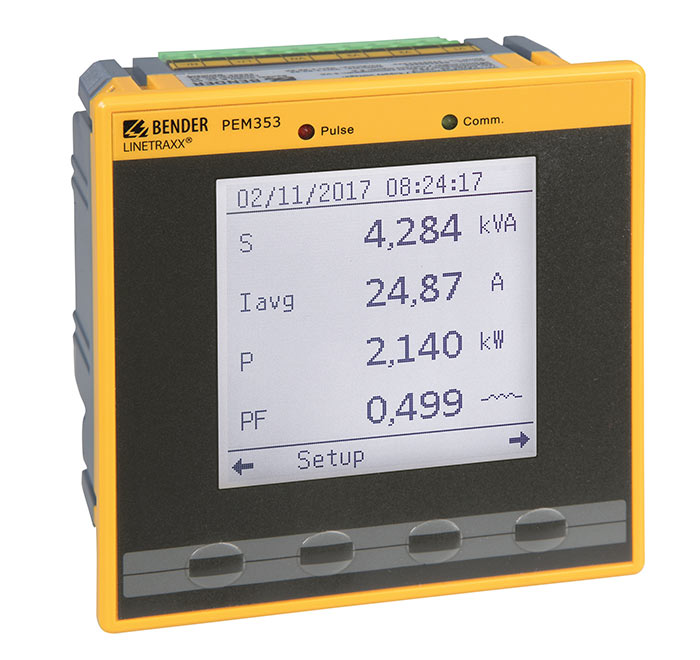 LINETRAXX® PEM353
Numerous measured quantities (see features/functions)
Power Quality Monitoring
Limit value monitoring (setpoints) with alarm forwarding
Energy and power measurement with storage and Time of Use
Configurable start page with 4 measured quantities
N conductor measurement and monitoring (PEM353-N only)
The digital universal measuring device PEM353 is used to record and display measured quantities of an electricity supply network, and make them available via the communication interface.
The range of measurements extends from voltages and currents to power and energy meters to measured quantities of the voltage quality, such as THD and the individual harmonics up to the 31st order.
The PEM353 is suitable for use in 2-, 3- and 4-wire systems and in their respective versions as TN, TT and IT systems. This allows monitoring single and polyphase systems. With its standardised dimensions of 96 x 96 mm, the device is intended for front panel mounting.
Features
Applications
Accessories
Ordering information
Downloads
1. Measurement of electrical quantities such as
–Phase voltages (individually + Σ) UL1, UL2, UL3 in V
–Line-to-line voltages (individually + Σ) UL1L2, UL2L3, UL3L1 in V
– Phase currents (individually + Σ) I1, I2, I3 in A
– Neutral current In (calculated) in A, I4 (measured, PEM353-N only) in A
– Residual current Ir (calculated, PEM353-N only) in A
– Frequency f in Hz
– Power per phase conductor (individually + Σ) P in kW, Q in kvar, S in kVA
– Displacement factor (individually + Σ) cos (φ)
– Power factor (individually + Σ) λ
– Active and reactive energy import (individually + Σ) in kWh, kvarh
– Active and reactive energy export (individually + Σ) in kWh, kvarh
– Voltage phase angle (LN or LL, individually) in °
– Current phase angle (individually) in °
– Voltage unbalance in %
– Current unbalance in %
– Harmonic distortion (THD, TOHD, TEHD) for U and I
– k-factor for I
– Crest factor for I
– Total demand distortion (TDD) for I

2. Energy meters
Accuracy class of the active energy acc. to IEC 62053-22: 0.5 S
LED (pulse) for active or reactive energy
2 pulse outputs (PEM353-P only)
Total phase and individual phase energy metering
– Import, export, net and total per active and reactive energy
– Total apparent energy
Up to 4 pulse counters (e.g. gas, water, air, heat)

3. Times of Use for energy measurement
Up to 8 tariffs
Tariff switching via digital inputs or
Tariff switching according to schedule, 2 schedules
Total phase and individual phase energy metering per tariff
– Import and export per active and reactive energy
– Total apparent energy
Peak demand of the total phase power (P, Q, S) per tariff

4. Energy meter log – 12 monthly values
Total phase energy metering
– Import, export, net and total per active and reactive energy
– Apparent energy
Total phase energy metering per tariff
– Import and export per active and reactive energy
– Total apparent energy

5. Load data for total phase power (P, Q, S) and currents
Configurable sliding average values/averaging (demand)
Demand forecasts of the next average value
Peak demand log with timestamp
– Total phase power and currents (P, Q, S)
– Total phase power per tariff (P, Q, S)

6. Log for max. and min. values for 45 measured quantities with timestamp

7. Limit value monitoring by means of setpoints and alarm forwarding
9 parametrisable monitoring points (setpoints)
25 measured quantities to choose from
Alerting via display and/or digital outputs (DO)
Monitoring for limit value violation (over/under limit value)
Hysteresis adjustable

8. Event log (SOE log)
100 entries with timestamp, resolution 1 ms
Changes to setup, setpoints and DI/DO
System messages
Limit value violations

9. Load data log: daily and monthly values (PEM353-N only)
Daily log
– 60 days (2 months)
– Total phase energy per active, reactive and apparent energy
– Peak demands of total phase power (P, Q, S)
Monthly log
– 36 months (3 years)
– Total phase energy per active, reactive and apparent energy
– Monthly peak demands of total phase power with timestamp (P, Q, S)

10. Data recorders (PEM353-N only)
5 recorders with up to 16 channels each
Channel selection from 328 measured quantities
Interval configurable: 60 s to 40 days
Recording time e.g. 100 days at a 15-minute interval

11.Easy and convenient operation – Large backlit graphic display
– Display password protection
– Standard display with 4 selectable measured quantities

12. Other functions
Connection fault detection (frequency, voltage/current failure, wrong polarity of measuring current transformer, rotating field)
Operating hours counter

13.Communication interface and protocols
Galvanically isolated RS-485 interface (1,200 to 38,400 bit/s)
LED for communication activities
Modbus RTU protocol
BACnet MS/TP
DNP
Modern indicating instrument for electrical quantities, e.g. as a replacement for analogue indicating instruments
Power quality monitoring
Limit value monitoring (setpoints) with alarm forwarding
Measurement and monitoring of the N conductor
Energy and power measurement, e.g. as part of energy data monitoring
Optional accessories for LINETRAXX® PEM353
Window-type current transformer
| | | | | | |
| --- | --- | --- | --- | --- | --- |
| CTB31 | 60 | 5 | 1 | WL60­5 KL.1 | B98086001 |
| CTB31 | 60 | 1 | 1 | WL60­1 KL.1 | B98086002 |
| CTB31 | 75 | 5 | 1 | WL75­5 KL.1 | B98086003 |
| CTB31 | 75 | 1 | 1 | WL75­1 KL.1 | B98086004 |
| CTB31 | 125 | 5 | 0,5 | WL125­5 KL.0,5 | B98086005 |
| CTB31 | 125 | 1 | 0,5 | WL125­1 KL.0,5 | B98086006 |
| CTB31 | 125 | 5 | 1 | WL125­5 KL.1 | B98086007 |
| CTB31 | 125 | 1 | 1 | WL125­1 KL.1 | B98086008 |
| CTB31 | 150 | 5 | 0,5 | WL150­5 KL.0,5 | B98086009 |
| CTB31 | 150 | 1 | 0,5 | WL150­1 KL.0,5 | B98086010 |
| CTB31 | 150 | 5 | 1 | WL150­5 KL.1 | B98086011 |
| CTB31 | 150 | 1 | 1 | WL150­1 KL.1 | B98086012 |
| CTB31 | 200 | 5 | 0,5 | WL200­5 KL.0,5 | B98086013 |
| CTB31 | 200 | 1 | 0,5 | WL200­1 KL.0,5 | B98086014 |
| CTB31 | 200 | 5 | 1 | WL200­5 KL.1 | B98086015 |
| CTB31 | 200 | 1 | 1 | WL200­1 KL.1 | B98086016 |
| CTB41 | 250 | 5 | 0,5 | WL250­5 KL.0,5 | B98086017 |
| CTB41 | 250 | 1 | 0,5 | WL250­1 KL.0,5 | B98086018 |
| CTB41 | 250 | 5 | 1 | WL250­5 KL.1 | B98086019 |
| CTB41 | 250 | 1 | 1 | WL250­1 KL.1 | B98086020 |
| CTB41 | 300 | 5 | 0,5 | WL300­5 KL.0,5 | B98086021 |
| CTB41 | 300 | 1 | 0,5 | WL300­1 KL.0,5 | B98086022 |
| CTB41 | 300 | 5 | 1 | WL300­5 KL.1 | B98086023 |
| CTB41 | 300 | 1 | 1 | WL300­1 KL.1 | B98086024 |
| CTB41 | 400 | 1 | 0,5 | WL400­1 KL.0,5 | B98086025 |
| CTB41 | 400 | 5 | 1 | WL400­5 KL.1 | B98086026 |
| CTB41 | 400 | 5 | 0,5 | WL400­5 KL.0,5 | B98086027 |
| CTB41 | 400 | 1 | 1 | WL400­1 KL.1 | B98086028 |
| CTB41 | 500 | 5 | 1 | WL500­5 KL.1 | B98086029 |
| CTB41 | 500 | 5 | 0,5 | WL500­5 KL.0,5 | B98086031 |
| CTB41 | 500 | 1 | 1 | WL500­1 KL.1 | B98086032 |
| CTB41 | 500 | 1 | 0,5 | WL500­1 KL.0,5 | B98086033 |
| CTB51 | 600 | 5 | 1 | WL600­5 KL.1 | B98086034 |
| CTB51 | 600 | 5 | 0,5 | WL600­5 KL.0,5 | B98086035 |
| CTB51 | 600 | 1 | 1 | WL600­1 KL.1 | B98086036 |
| CTB51 | 600 | 1 | 0,5 | WL600­1 KL.0,5 | B98086037 |
| CTB51 | 800 | 5 | 1 | WL800­5 KL.1 | B98086038 |
| CTB51 | 800 | 5 | 0,5 | WL800­5 KL.0,5 | B98086039 |
| CTB51 | 800 | 1 | 1 | WL800­1 KL.1 | B98086040 |
| CTB51 | 800 | 1 | 0,5 | WL800­1 KL.0,5 | B98086041 |
| CTB51 | 1000 | 5 | 1 | WL1000­5 KL.1 | B98086042 |
| CTB51 | 1000 | 5 | 0,5 | WL1000­5 KL.0,5 | B98086043 |
| CTB51 | 1000 | 1 | 1 | WL1000­1 KL.1 | B98086044 |
| CTB51 | 1000 | 1 | 0,5 | WL1000­1 KL.0,5 | B98086045 |
Split-core type current transformer
| | | | | | |
| --- | --- | --- | --- | --- | --- |
| KBR18 | 50 | 1 | 3FS5 | WLS50­1 KL­3FS5 | B98086046 |
| KBR18 | 100 | 1 | 3FS5 | WLS100­1 KL.3FS5 | B98086047 |
| KBR18 | 150 | 1 | 3FS5 | WLS150­1 KL.3FS5 | B98086048 |
| KBR32 | 250 | 1 | 3FS5 | WLS250­1 KL.3FS5 | B98086049 |
| KBR32 | 500 | 1 | 3FS5 | WLS500­1 KL.1FS5 | B98086050 |
Variants of LINETRAXX® PEM353
| | | | | | |
| --- | --- | --- | --- | --- | --- |
| PEM353 | 3(N)AC 230/400 V | 5 A | - | 2 relay outputs | B93100355 |
| PEM353-P | 3(N)AC 230/400 V | 5 A | - | 2 solid-state pulse outputs | B93100354 |
| PEM353-N | 3(N)AC 230/400 V | 5 A | 5 A | 2 relay outputs | B93100353 |
Downloads for LINETRAXX® PEM353
| | Category | Product | Language | Size | Download |
| --- | --- | --- | --- | --- | --- |